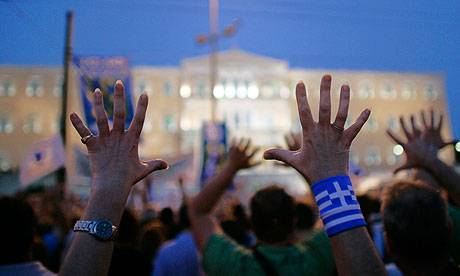 Ratings agency Moody's has cut
Greece
's debt rating by three notches to Ca on Monday, leaving it just one notch above what is considered default, and said the chance of a default is now "virtually 100%".
The ratings agency warned that last week's bailout package agreed by eurozone leaders will make it easier for Greece to reduce its debt, but the country still faced medium-term solvency challenges and there were significant risks in implementing the required reforms.
"The announced EU programme implies that the probability of a distressed exchange, and hence a default, on Greek government bonds is virtually 100%," the agency said.
"[Greece's] stock of debt will still be well in excess of 100% of GDP for many years and it will still face very significant implementation risks to fiscal and economic reform," it added.
The ratings agency is wary that the eurozone bailout package sets a negative precedent for investors.
"The support package sets a precedent for future restructurings should the finances of another euro area sovereign become as problematic as those of Greece," Moody's said.
According to the ratings agency, obligations rated Ca are highly speculative and are likely in, or very near, default, with some prospect of recovery of principal and interest.
The outlook is developing.
Standard & Poor's and Fitch have already downgraded Greece to CCC, one notch above Moody's.