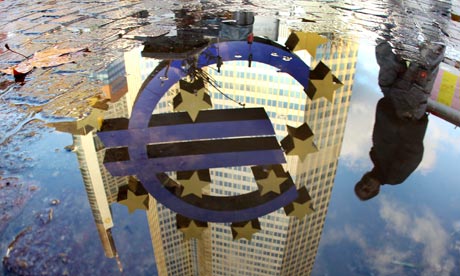 half a trillion euros.
The amount of money being stashed overnight with the European Central Bank has hit yet another record high this morning -- and is approaching
The ECB reported this morning that it accepted€493.2bn in overnight deposits from European banks on Friday evening. The amount being borrowed through its overnight loan facility also increased, to €2.38bn (from almost €1.5bn).
The overnight deposits figure has been hitting record levels in recent weeks, ever since the ECB pumped almost €500bn of cheap loans into the system. So what does this mean?
Some analysts say it is a clear sign of stress in the financial sector -- with banks choosing to leave their assets with the ECB at a very low rate of return rather than lending them.
ECB head Mario Draghi has rubbished suggestions that the ECB's plans have backfired. Last week, he insisted that the banks who took advantage of the cheap loan splurge are "by and large" not the same banks who are now depositing their funds with the ECB overnight.

Either way, €493.2bn is a lot of money to be switching between commercial banks and the ECB's electronic vault.
Either way,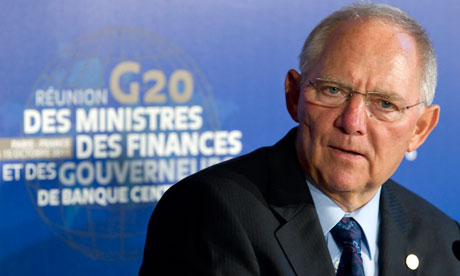 Germany's finance minister took to the airwaves this morning to insist that Europe's bailout fund will not be thwarted by S&P.
Wolfgang Schäuble told German radio channel Deutschlandfunk that Germany will not be forced to increase its guarantees to the European Financial Stability Facility (EFSF), to make up for France's downgrade.
Schäuble insisted that Germany's current pledge of €211bn will be quite sufficient, because:
The heads of government and states have decided to get the ...permanent European Stability Mechanism (ESM) to supersede the EFSF already this year...

For the job that the EFSF has in coming months, the sum of guarantees is easily sufficient.
S&P stated on Friday night that the EFSF could still keep its own AAA rating if other countries increased their guarantees to make up for France's loss of firepower [France and Germany are the two major backers of the EFSF, which raises funds for countries frozen out of the markets].
Schäuble appears to be suggesting that Germany won't cough up -- so an EFSF downgrade could soon follow.....
Europe's financial markets are open, and there's no sign of panic.
In fact, the FTSE 100 has broken into positive territory (up 4 points at 5641).
Other markets are stuck in the red, though, with the Spanish IBEX down almost 1% in early trading and the French CAC losing 0.5%.
Nothing to get alarmed by, though. That reflects the fact that the S&P ratings cuts were expected.
As Stan Shamu of IG Markets commented this morning:
These downgrades should not have come as much of a surprise. In retrospect we may look back on them as the most flagged and blatantly obvious downgrades in history.
It's not a particularly busy day for economic news, but the bond markets should be busy. The highlight is probably an auction from France -- will the AAA downgrade push up its borrowing costs?
Here's today's agenda:
• Italian inflation data for December - 9am GMT (10am CET)
• Italian government debt for November - 10am GMT (11am CET)
• France auctions up to €8.7bn of short-term debt. 1.50pm GMT
• Netherlands auctions three and six-month bills. From 10am GMT
• Slovakia auctions €2bn of 12-month bills. From 10am GMT
+ George Osborne visiting Hong Kong
+ Wall Street is closed for Martin Luther King day
What do you think about Standard & Poor's decision to downgrade nine eurozone countries?
Economic affairs commissioner Olli Rehn was quick to criticise, calling the move "inconsistent" at a time when the eurozone was taking "decisive action" to tackle the debt crisis.
Portugal also took badly to being relegated to Junk status, saying it "disagrees with S&P's assessment".
So is it simply a case of shooting the messenger? Or are ratings agencies simply taking on too much power? Should we even be worried about S&P's views?
Here's a reminder of the nine countries downgraded by S&P:
France: Downgraded by one notch, from AAA to AA+. Negative Outlook.
Austria: Downgraded by one notch, from AAA to AA+. Negative Outlook.
Malta: Downgraded by one notch, from A to A-. Negative Outlook.
Slovenia: Downgraded by one notch, from AA- to A+. Negative Outlook
Slovak Republic: Downgraded by one notch, from A+ to A. Stable Outlook
Cyprus: Downgraded by two notches, from BBB to BB+. Negative Outlook
Italy: Downgraded by two notches, from A to BBB+. Negative Outlook
Portugal: Downgraded by two notches, from BBB- to BB. Negative Outlook
Spain: Downgraded by two notches, from AA- to A. Negative Outlook.
Good morning, and welcome to another day of rolling coverage of the eurozone financial crisis.
The situation in Greece worsens by the day. Talks between the Greek government and private lenders over a plan to reduce Greece's debt by $130bn are now frozen until Wednesday. But the political pressure will continue to build on Lucas Papademos's government, with speculation over a disorderly default growing.